Waka waka eh eh!!!
Tsamina mina zangalewa!!!
This time for Africa!!!
Shakira Shakira!
"Takes headphones off".
Oh hello – it's you again.
Pardon me there, I got carried away – the World Cup is on you see.
The four-yearly event has come around and landed in Russia, hands up if you've been watching it!
MrsFrugalSamurai and I certainly have been – more the case of me forcing her to watch that is.
"Come on babe! Egypt versus Uruguay!!!"
"Uruguay… is that a fruit?"
Blank expression.
"N…no dear… it's a country…"
"In Europe?"
Geographical ignorances aside (my apologies on her behalf to all our Uruguayan friends), the World Cup is THE biggest sporting event in the world.
A true global event spanning six continents, it's the most widely followed and lucrative four weeks on the sporting calendar.
But beneath the glitz and glamour, the drama and action, the heroes and villains, beneath all that – there are 5 key messages to take-away which are transferable to our everyday lives.
Give it a go.
In the World Cup, there are 32 teams from all over the globe competing for the title of world best.
Now as there are so many teams involved, it's natural to have the big boys pitted against the small minnows.
We saw this last night when mighty Argentina (two-time winners) with one of the best players in the world (Lionel Messi), took on Iceland (total population 350,000) and only came out with a draw.
The Icelandics huffed and puffed and gave it their all to more than match their more illustrious opponents.
Key message:
In life, just as on the pitch – it's not what's on paper that counts but what is real and measurable. Effort. Hard work. Sweat. A bit of luck.
Life is hard, life seems insurmountable – but give it a damn good go and you never know, you might just come out of it with a result.
Believe.
But no matter how much effort and sweat is involved, you won't be able to generate any if you don't have belief.
We saw this in the Australia game (cue tears) against a much fancied French outfit.
Although France came out with a 2-1 win. The effort and persistence showed from the Aussies was more than admirable.
After the final whistle blew, the Australian Captain – Mile Jedinak grabbed all the players in a circle and delivered what was no doubt a rousing speech.
The key message is to believe. Believe that you can compete if you give your all each and every time. Believe that you can make it to the next round.
Key message:
Hey look, sometimes after giving your all – you still don't quite make it, you still aren't quite there. That's OK.
If you can retain your confidence in your ability, trust those around to support you, dedicate yourself to yielding a better result next time and look yourself in the mirror and say – I've done my best.
Then that's all anyone can ask for.
Remembering the why.
I wrote about this in an earlier post (here), about not losing sight of the bigger picture in life. Remembering what is important and not approaching life with too narrow of a vision.
Which is why I will stay up to watch Egypt vs Uruguay and why I will wake up early to view Portgual vs Spain
Because as a football fan, the World Cup is the pinnacle event – it happens every 4 years and damn it man if I am not going to catch every possible moment of it.
Sure I could function like a normal human being with normal sleep cycles – but honestly, walking around like a zombie for a month is worth it, if only to catch Cristiano Ronaldo's hat-trick live.
Right there, right there is the why.
Key message:
You might think to yourself, oh there will be another one, I'll catch it some other time.
Yep, of course – there will be another one and another time. But soon enough, it turns to "I'll watch her school play another time", or "I'll catch up with him next time" – but you know, life doesn't stop for anyone, there MAY be another one and MAY be another time. But what's the point of that if you're missing the details right now?
Dedication and discipline.
For those of you who watched Ronaldo's hat-trick in the 3-3 draw against Portgual, wow what a performance aye!
Love him or loathe him, you have to admit that he is one of the best players to have ever played the game.
But you know, that hat-trick is a culmination of years and years of hard-work and commitment to himself, on the field and off it. Here just read this article on his training and diet regime. It's HARD. CORE.
He has the talent, he has the motivation and most of all, he has the dedication and discipline to continuously work on himself.
Key message:
Some people have the natural talent but not the mental fortitude and commitment to themselves to achieve what they want to achieve.
No one's asking you to go to the extreme's that Ronaldo does with his 6 meals a day and 3am ice baths, no – there's only one Ronaldo, only one LeBron, only one Tom Brady.
Life only gives back what you put in.
If you want to earn a stable $80k a year at a 9 to 5 job, have a loving wife and two kids – then go for it.
But if you're telling yourself that you want more, need more and willing to work more to get it, but don't. Then ask yourself why?
Connect people.
Back in the 2006 World Cup, the Aussie team progressed to the second round for the first time ever.
However what I remember best was the feel good atmosphere and general sense of goodwill and community shared across the nation.
Nothing connects people in a unified sense of national pride than your country participating in a major global event.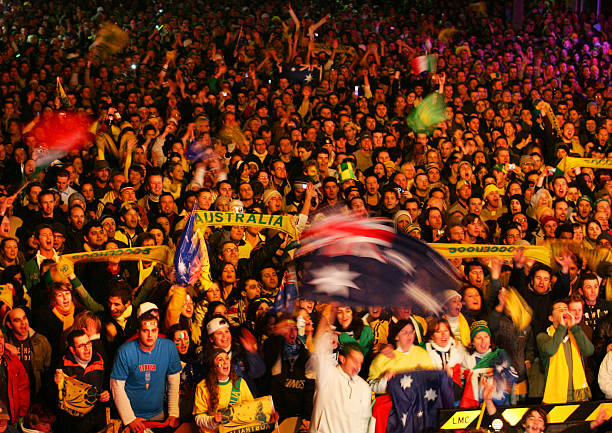 That's what's great about sport, it transcends national boundaries, speaks a universal language and most of all connects humans with each other in our social bonds.
From the highest levels to the grassroots foundations, sports has and always will be a social lubricant for new conversations, connections, partnerships and best of all friendships.
So do yourself a favour, if you don't particularly like sports, or engage in a sporting activity – seriously look into it, it's a way to introduce new elements in your life.
Key message:
If you don't want to wake up at 4am to watch a football match, that's OK, that's expected.
But if you feel left out in the office, in school, in your social groups because everyone's talking about sports – then at least consider it.
I've made friendships and connections just by participating and following different sports – it's one of the easiest conversation starters and immediately forms a connection with the other person.
Oh, apparently being in a team environment and running around is healthy for you as well!
Go Australia!
What do you think? Did you enjoy this post? Please help me out if you enjoyed this and click on the little "follow" button at the bottom right and be a follower. This way, you'll never miss my words of awesomeness! So do the right thing, be a subscriber and get it straight to your inbox fresh out of the oven!